Happy Birthday Roman Polanski
:
Roman Polanski is a master. You can think he's not up to snuff after Chinatown (which is ridiculous, and especially with The Ghost Writer), you can debate about the importance of The Pianist, but after icons like Welles, Kubrick, Bergman and Altman have left us, Polanski remains one our greatest living filmmakers. An artist who's crafted numerous iconic classics, and one who could have rested on Chinatown alone, he's still here -- creating challenging, compelling, smart, darkly funny and yes, masterful pictures. It seems impossible for Polanski to not be interesting.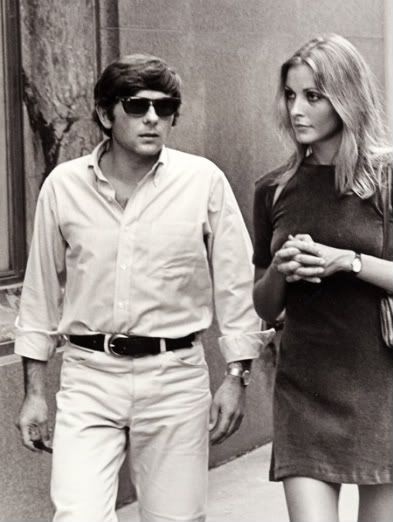 He's also an extraordinarily controversial figure, a man who was, up until 2010, still living under house arrest in Switzerland for a 1977 sexual assault case in which he pleaded guilty to statutory rape and then (through various reasons that have been argued, defended, explicated, the list goes on and on and I know it all too well) fled before he was to be formally sentenced in 1978. Living as a fugitive until September of last year, he's now free, and has completed another film -- God of Carnage. Through a tumultuous life of surviving the Warsaw Ghetto, the loss of his mother in Auschwitz, the murder of his wife (Sharon Tate) at the hands of the Manson family, and his own personal demons, Polanski seems predestined to have an irregular life -- a life of darkness, absurdity and controversy. A life much like his movies.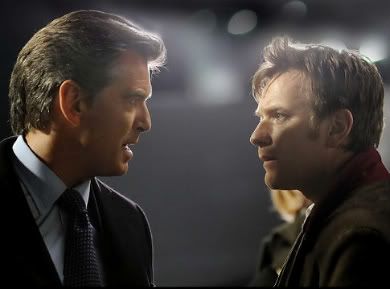 And yet, even while enduring his predicament, Polanski managed to finish the mesmerizing, brilliant political thriller, The Ghost Writer, (an adaptation of the Robert Harris novel The Ghost) starring Ewan McGregor, Pierce Brosnan, Olivia Williams, Kim Cattrall, Tom Wilkinson and the great Eli Wallach in a small part. With McGregor in lead as the titular ghostwriter, hired to pen the memoirs of a former British prime minister (a fantastically funny and sleazy Brosnan), the movie throws the young writer into a series of doomed, dangerous situations, punctuated by strange characters that are subtly ominous and absurd and perfectly Polanskian. It was one of the best films of 2010 and one of the greatest of Polanski's career.
So with the excitement that the filmmaker has not lost his touch, and since it's his birthday (he turns 78), here's a look at eight of my favorite Polansk pictures (a nearly impossible task for me since I love nearly every picture he's made -- even the "minor" ones. And please leave me alone about Macbeth and The Fearless Vampire Killers, Frantic, Death and the Maiden, all of which I love. And I discussed The Ghost Writer, above). Through both real life and cinematic tragedy and triumph, absurdity and horror, sensuality and perversion, beauty and hideousness, what a long, strange and brilliant trip it's been Mr. Polanski.
Knife in the Water (1962)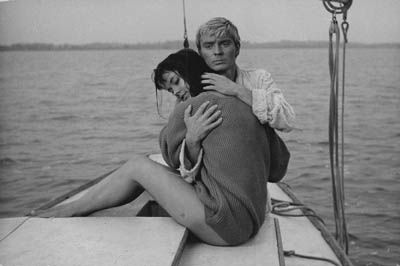 It's evident. Roman Polanski emerged from the womb knowing cinema. Proof lies in his glorious first feature, Knife in the Water, a tense, complex, three-character study in which cruelty, violence, sexuality, absurdity (all of the Polanski hallmark obsessions and more) are laid out in pitch perfect sequences and characterizations, confined to one space (Polanski loves nothing more than to trap his characters in apartments, boats or creepy houses. And water continually means something). The story finds a vacationing couple, Andrzej (Leon Niemczyk), a sportswriter, and his wife Krystyna (Jolanta Umecka), picking up a nameless, young hitchhiker (Zygmunt Malanowicz). The young man joins them on their boat trip. Good idea? Not when jealousy arises via Andrzej who can't contend with the younger man's golden boy loveliness. And then there's that knife suggested in the title (filled with violent and phallic meaning) hanging over the proceedings with menace and cruel sexuality. The movie was a critical hit, earning top prize at the Venice Film Festival, and an Oscar nomination for Best Foreign Film. Darkly funny, sexy, scary, claustrophobic while agoraphobic at the same time (Polanski excels at this particular predicament). The young Polish director was on his way to many more masterpieces to come.
Repulsion (1965)
Through the beautiful visage of ice goddess Catherine Deneuve, Repulsion remains one of the most frightening studies of psychosis ever filmed. It's also one of the most sexually mysterious. Deneuve plays Carol, a nervous young manicurist who goes about her days in the salon, quietly tending to bossy old ladies' fleshy cuticles; but eventually finds herself languishing about her apartment, where, her pathological shyness, sexual repression and repulsions spiral into madness. Perplexing hallucinations haunt Carol as she's holed up in her pad: sexual acts with a greasy man whom she simultaneously loathes and lusts; greedy hands poking through the hallways and kneading her soft flesh; and the moving and cracking of walls. Left alone, she is able to act out what she is so afraid of: the dark sludge of desire. The obscure, slippery and decayed complexities of such desire are conveyed brilliantly and the diseased atmosphere of Carol's apartment/womb is meticulously created through Polanski's inventive camera angles, sound effects and images of clutter.
Polanski's use of ambient sounds (the ticking of a clock, the voices of nuns playing catch in the convent garden, the dripping of a faucet) is masterful,conveying Carol's unsettling fears. Polanski also dresses the film with pertinent details that further exemplify both Carol's madness and the aching passage of time: potatoes sprout in the kitchen; meat (rabbit meat, no less) rots on a plate and eventually collects flies; various debris of blood, food and liquids form naturally around Carol. The use of black-and-white film, wide-angle lenses and close-ups creates an unsparing vision of sickness, and Deneuve's performance is effectively mysterious. As Polanski cameraman Gil Taylor muttered during filming, "I hate doing this to a beautiful woman." A masterpiece of madness.
Cul-de-Sac (1966)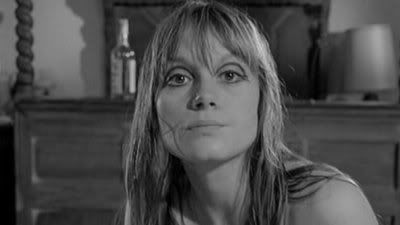 Roman Polanski understands art, certainly, but also the art of wombs -- diseased, depraved, disordered wombs. Cruelty, violence, twisted sexuality, madness, absurdity -- all of Polanski's hallmark obsessions -- are almost always confined to one space. The director loves nothing more than trapping his characters in devil worshiping apartment buildings, phallic, knife-wielding boat trips and unhappy, unsound houses. And water continually means something. The superb Cul-de-Sac (1966) is his bats in the belfry, bat shit crazy house picture, and what weird, sexy, subversive, screwy fun it all is. Party at Polanksi's? I'm there. Even if Shelley Winters is invited.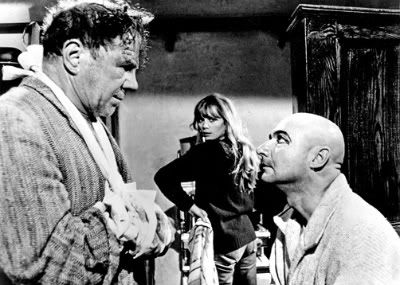 And yet, Cul-de-Sac is so under-seen. (Thankfully the Criterion release is turning that around). A precursor to themes he would continually dabble in: tortured relationships, bizarre blonde behavior, infidelity, cross-dressing, even film noir, via the stalwart, gravel voiced Lionel Stander, alas, best known to some for his role in Hart to Hart ("Mrs. H, she's goooorgeous!") but who should also be remembered as the blacklisted, veteran hard-boiled American character actor, Cul-de-Sac (considered minor by some), is stunningly, at times, brilliantly unhinged, while being, decidedly Pinteresque. But this is pure Polanski.

Donald Pleasence plays an odd fellow (a grand understatement) who lucks out (or not) with a gorgeous, beguiling wife (the ever poignant Francoise Dorléac; sister to Catherine Deneuve, and an actress who left the world too soon), whom he keeps in an enormous, isolated house on a tiny island off the northeast coast of Britain. Playing like an especially kinky Desperate Hours, the couple will be forced to host two escaped criminals (Stander and Jack MacGowran) after the thugs land at their nutty abode. And then things get...really interesting. But it's not just crime and entrapment that make the story compelling, it's all of the Polanski touches, particularly when he observes the idle activities of Dorléac.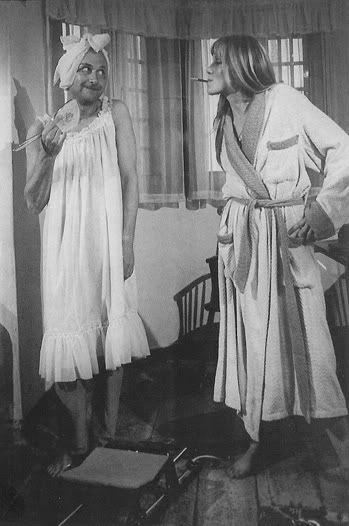 Dorléac is cheating on her husband (who takes to wearing ladies clothes a la Roman's tortured Tenant Trelkowski), she's also perpetually bored, stuck in the house like a more spirited, extra primal Virgin Suicide sister, and engages in childlike activities to amuse herself. She tears around the house barefoot, applies exaggerated eyeliner (or helps her husband with his), messes with rifles and, the best, most hilarious, lights a sleeping Stander's feet on fire with burning pieces of newspaper between his toes ("It's called a bicycle" she taunts). Oh...you just don't do that to Lionel Stander. Or perhaps, you do. Between these two mismatched misfits, it's disarmingly sexy. These characters don't establish things like "safe" words nor do they understand the concept of such a thing, so the perversity, stark beauty, the isolation, the bleakness, the menacing sexuality and the insanity make the whole experience a strangely good time. A romp, in fact. A Roman romp.
Rosemary's Baby (1968)
One of Polanski's most famous, iconic and unforgettable movies, Rosemary's Baby is just as effective as a dark comedy as it is a horror movie. It also works as a strange celebration of one woman's love for her baby, no matter what, and the institutions that attempt to control her (yes, you can read Rosemary's Baby as a feminist work). We all remember young-mother-to-be Rosemary (Mia Farrow) moving into a lovely, though creepy, apartment building and eventually finding herself impregnated by Satan himself. Her ambitious actor husband, Guy (John Cassavetes), is mostly to blame -- he strikes a deal with their eccentric, Devil-worshiping neighbors the Castevets (a wonderfully spellbinding Sidney Blackmer and a charmingly though frighteningly coarse Ruth Gordon) -- and poor Rosemary is the vessel, enduring he Castevets' pregnancy tips, and even agreeing to see the famed Dr. Sapirstein (played by a condescendingly evil Ralph Bellamy in a switch from his usual nice guy roles of yore).
A powerfully desperate and touching performance by Farrow carries the picture, but Polanski's colorful, tense and at times, surreal direction (the dream sequence/Satanic seduction is a particular standout) and attention to detail is superb. And again, it's at times, hilarious. "What about Dr. Sapirstein? What about ME!"
Chinatown (1974)
Chinatown isn't just one of Roman Polanski's great masterpieces (perhaps his greatest), it's also one of the true masterpieces of the 1970s, a true masterpiece of neo-noir (some even contend Chinatown a pure film noir, removing the neo from the appellation, and the last one of the genre), and the last true studio picture, a movie that slammed the doors of Paramount, where the infamous producer Robert Evans reigned. Combining the winning elements of a brilliant, intricate screenplay by the great Robert Towne, Polanski's tour-de-force direction and both an iconic Jack Nicholson (as private dick Jake Gittes) and fetchingly mysterious/neurotic Faye Dunaway (as the damaged Evelyn Mulwray), Chinatown works on all levels: thematically, stylistically, philosophically, historically, everything. It's a perfect movie. The labyrinthian plot (taking place in 1937) will find Gittes embroiled in a story of incest, greed, political corruption and a doomed love (you will never forget Dunaway's infamous "my sister, my daughter" moment), wandering through a beautifully styled Los Angeles, that's meticulously recaptured in exquisite period detail and unique, beautifully muted cinematography (interestingly, and purposely, you never actually see anyone going to Chinatown). Polanski himself would have a memorable moment.
Emerging from the shadows, Nicholson's Gittes asks, "Where'd you get the midget" only to be met with a switchblade up his nose via Polanski "You know what happens to nosy fellows? They lose their noses." A classic on par with Citizen Kane, The Maltese Falcon, and The Godfather, Chinatown is truly one of the greatest movies ever made. And watching it today, knowing about Polanski's future to come, the picture's themes and dialogue are startlingly portentous. Think of John Huston's (as Noah Cross) famous line: "You see, Mr. Gittes, most people never have to face the fact that, at the right time and the right place, they're capable of anything."

The Tenant (1976)
"These days, relationships with neighbors can be … quite complicated. You know, little things that get blown up out of all proportion? You know what I mean?"
Though Rosemary's Baby remains Polanski's classic horror picture (and I do love it), for psychological terror, hysterical paranoia, existential break-down and a man really going through hell in a dress, I think The Tenant supersedes Rosemary in thought-provoking terror. We can relate to it. It makes one fearful of every friend, neighbor, sound and the very thought of attempting a romance -- not to mention the task of simply taking out the garbage.
Polanski wisely cast himself as Trelkovsky, a beleaguered, nervous Polish file clerk who takes over an apartment after the previous tenant commits suicide. With neighbors who are all kinds of creepy (gotta love a thoroughly disagreeable Shelley Winters), he's spying strange things in the bathroom across the courtyard and, in one of the picture's more memorable moments, discovers a tooth hidden in the wall. What else? There's donning the prior tenant's clothes, complete with dress, wig and a thick smear of perverse red lipstick and then that double jump, which I won't reveal here but, it's a spectacular leap. And such shattering of glass. And that crawl. All in that dress. It all becomes an odd mixture of impotence and satisfaction.
And it's all so human, horrifying and morbidly hilarious -- a tough combination to successfully convey, but Polanski, master of the dark humor, does so effortlessly. For instance, watch Polanski smack a kid in the park, or observe an especially frightening and imaginative moment when Polanski's head is bouncing like a basketball, and feel confused by your terrified bemusement. Try not to laugh. And then cringe. And then laugh. And then think of yourself and all those you don't trust (there are many).
A Dostoyevskian/Kafkaesque inspired tale, and yet, specifically Polanskian (no other filmmaker has been able to imitate his specific éclat), The Tenant is supremely creepy, philosophically fascinating, funny, dreamlike, yet real and incredibly daring.

Polanski's boozy, bitter, sexually manic ode to demented dysfunction remains one of the most underrated, misunderstood pictures in his brilliant career, a movie that makes one laugh as much as it horrifies, titillates and illuminates. It's also a movie one can identify with (either literally or, one hopes, allegorically, though that's not always the case in life), which might be part of the reason so many viewers were turned off by it. Which couple do you relate to?
The "nice" couple is Hugh Grant and Kristin Scott Thomas, a handsome, respectable British pair, enjoying a cheesy cruise, making the most of whatever excitement is left in their marriage. The twisted duo is a failed and rather hacky novelist (an inspired Peter Coyote) and his mysterious, French sex-bomb of a partner (Emmanuelle Seigner, Polanski's real life wife), whose story becomes Grant's main obsession as he listens to Coyote describe every detail of his relationship. And I mean every detail (simulated barnyard sex situations, urination, insane cruelty, paralyization etc.). Grant falls for Coyote's wife, but this will seriously (and literally) backfire on him during the boat's New Year's Eve party when, yes, lovely Seigner writhes in seductive abandon with, not Grant, but his wife. It's a wonderfully exciting moment of Sapphic sensuality, but one that'll lead to shocking tragedy.

The Ninth Gate (1999)
A movie so underrated it's almost maddening. As shown here, I admittedly have a never-ending love of Polanski's work (including The Fearless Vampire Killers, the wonderful Macbeth and even Pirates, dammit), but so many critics missed the darkly humorous point of this picture. A wonderfully deadpan Johnny Depp stars as Dean Corso, a snaky rare-book dealer hired by a wealthy scholar of demonology, Boris Balkan (Frank Langella), to authenticate a book of satanic invocation called "The Nine Gates of the Shadow Kingdom." He ventures to Europe to compare the book against two other extremely rare copies (if only book dealing were this exciting) and then things begin to get even weirder.
For a book dealer, the investigation becomes pretty spectacular, right down to the Eyes Wide Shut-like moment (not at all intended to ape Kubrick's film) during which devil worshipping Langella storms in on a group of supposedly scary Satanists and hilariously calls them a bunch of losers. Though much more understated than Polanski's greatest works of terror (The Tenant, Repulsion) and not as psychologically tumultuous, The Ninth Gate is nevertheless an engaging, beautifully photographed thriller with a stately, graceful style of pacing that feels drugged and otherworldly. Perfectly perverse, playful, penetrating Polanski.
And no, I did not forget. Two of my other Polanski favorites, Tess and The Pianist:

Tess (1979)
A rapturously beautiful Nastassia Kinski stars in just one of Polanski's great classic literary adaptations (his others include Macbeth and Oliver Twist) and indeed one of his finest. Lushly adapting Thomas Hardy's novel, Tess of the d'Urbervilles, may have seemed an odd choice for a filmmaker who just came off making the spare, scary horror thriller The Tenant, but the themes of doom, love, rape, chaos and the chains of fate were no stranger to the auteur. Kinski is the beautiful peasant girl Tess, bound in a relationship with the wealthy but cruel Alec d'Urberville (Leigh Lawson). She becomes pregnant (in the novel the rape is a powerfully evocative and sympathetic moment), extremely unhappy and after a tragedy, leaves his estate to humbly work on a dairy farm. There, she falls in love with the very serious and very virtuous (and aptly named) Angel Clare (Peter Firth), who will take issues with Tess' past. Too much issue. Unfair issue.
Extremely sympathetic to its lead heroine, who is trapped in a world of judgment, shame, social position and yes, fate, Tess is a powerful period piece aided by all of the actors and Kinski in particular. Her beauty is so heart-stopping it haunts the picture, becoming almost scary and strange , underscoring the film's lilting, yet hanging doom. As Hardy wrote, "The sudden disappointment of a hope leaves a scar which the ultimate fulfillment of that hope never entirely removes."

The Pianist (2002)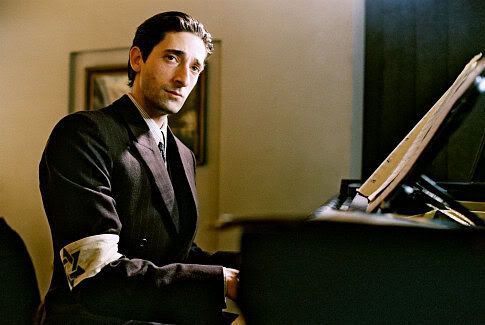 A triumph. And a personal one. Though based on the real life of Wladyslaw Szpilman, a Polish composer and musician who survived the Holocaust, hiding from the Nazis after they invaded in 1939, the picture was also inspired by Polanski's own youth. Young Polanski, whose father was detained in an Austrian concentration camp and whose mother died in Auschwitz, would spend World War II hiding from the Nazis in Poland, escaping to the Krakow Ghetto and eventually roaming the countryside, living hand to mouth. Instead of making a purely autobiographical film about his extraordinary journey and survival, he crafted this masterpiece, in which Jewish musician Szpilman (played by Adrien Brody) survives Warsaw during five years of German occupation. Unable to play his piano, scrapping for food, shivering with cold and, in some of the movie's most inspired moments, barely speaking a word, he lives.
The Pianist is a deeply personal film, and Brody's performance is brilliantly internal, but the movie never panders or attempts to deliver an easy survival story. The dark and brutal truth to the picture, a truth Polanski well understood, is that Szpilman (and Polanski) did indeed survive, but through many random and lucky incidents (and that kind of luck can turn. Polanski's own heartbreak over the murder of his wife from a band of murderers cuts deep in his worldview) . Polanski knows his hero is special. We know he is special. But does the universe know he is special? Incredibly moving, gorgeously made, horrific and dark and, yet inspiring and beautiful, The Pianist is already a classic.
Happy Birthday Roman Polanski.
"It's called a bicycle."