Anonymous & Antisec Rock Mantech
: "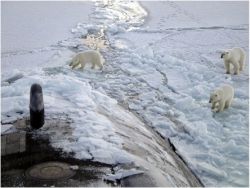 Yesterday I downloaded the Fuck FBI Friday III/Mantech release, which was uploaded Friday to The Pirate Bay by Antisec & Anonymous, and this evening I thought I'd crack it open for a look. I'm astounded. Again. These hackers are seriously changing the landscape for investigative reporters, and they promise this is just the beginning.
Friday's release includes 1,073 documents, coming in at just under 400MB.
There's all sorts of goodies in there, ranging from inane office shots from occupied country X to mercenary rapsheets and headshots of Mantech contractors, dozens of excel spreadsheets filled with cryptic budgets, and a score of power point presentations and other documents.
For the moment, here's a couple hits from the file, which by my estimation would take weeks to properly sort through.
On the side of this article are a couple of highlights from a document called Funny Pictures, which appear under the following caption: "Shot from the USS HONOLULU ( Los Angeles- class fast attack submarine) at the Arctic Circle, 280 miles from the North Pole--is there anything that scares a polar bear?" (Side note, WTF is an attack submarine doing up there?)
The release contains everything from the big picture to the banal. Here's a taste: a briefing outlining how it works to do business with NATO, a flyer showing that Costco is offering a special discount to Mantech contractors, a document assessing the use of biometrics in the army, a résumé from a certain Shon Hodges, who lives at 200 Seminole Pl, Huachuca City, AZ and previously worked at Radio Shack, a comic book how-to logistics support guide for soldiers, a series of charts on Army Transformation, and a rate sheet showing what Mantech would bill the Pentagon for a Senior Administrator ($45 an hour).
This is just what I've checked out in the last hour or so. Like I said, there's weeks of work to be done in order to properly assess the documents in this release.
Here's how the folks behind the release explain why they targeted Mantech:
What ManTech has to do with the FBI? Well, quite simple: In Summer 2010 the FBI had the glorious idea to outsource their Cybersecurity to ManTech. Value of the contract: 100 Million US-Dollar... Well done, good sirs. You failed epically. Because we pwned ManTech utterly and throughly; and we did not need hundreds of millions for it. In fact, we did not require any funds at all, we did it with Lulz.



All Mantech (gawd, what an awful name) had to say in response is that they don't usually comment on security breaches, but this time they're acknowledging it. Sort of. From their website: "...we wish to assure our customers, employees, shareholders and business partners that ManTech takes seriously recent reports of a cyber threat."
Recent reports? Um, right. Sort of implies that I didn't just download the file, and neither can you! Onwards...
This text was originally posted on Dawn's blog.
"